Greetings Liberty family & friends
On this beautiful fall weekend, we can see many examples of the "harvest" principle that God's Word gives us as an aim in our prayers. In Psalm 147:11, we read that "the LORD delights in those who fear him." and one of the ways He shows His delight is in the principle of harvest. "He satisfies you with the finest of wheat." (Psalm 147:14). When Jesus demonstrated the eternal value of an individual soul receiving salvation He explained it to His disciples in the language of "harvest": "Lift up your eyes on the fields for they are white unto harvest" (John 4:35)!
One of our great joys as a congregation is to share in a harvest of our own. In the uplifting acts of worship, service and fellowship that Jesus gives us, we are "co-laborers" in a Kingdom that calls each of us to pour our very best energies into a cause that outlives all of us. How grateful we are for each of you who reach out to be a friend, a prayer partner or a listener to someone in need.
I've often said that one of the things I treasure most about Liberty Church is the initiative and vision that is expressed by those members who see a need and step up to serve. Several times in the past month, I've seen it again and always by someone whose love for Jesus is truly an inspiration! I could share many examples but here's one from this weekend: Joe Gorman in action on one of his latest projects: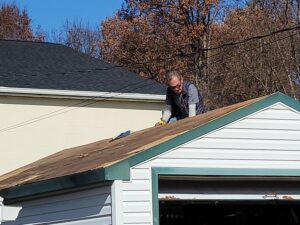 With our invitation to worship today we also invite everyone to be part of our upcoming "Gratitude Gathering". That's Friday night, November 11th at 6:30 PM. Join us for our Thanksgiving meal and fellowship evening. See the sign-up sheet on the Connections Table to let our coordinators know you're coming. There's a place there to note any side dishes, desserts and/or salads you would like to bring to go along with turkey and dressing (provided by the church). Welcome to the Gratitude Gathering on Friday evening!
Two compelling issues are in our prayer focus together tomorrow. I hope you can each join us in these crucial times of awakening and action for God's people.
First, Election Day on November 8th: The landscape upon which most Americans are voting today is far more treacherous than ever before. Sharp divisions create tension about the outcome of elections that is troubling for many of us who deeply love our country. As followers of Jesus, we know it is our calling first to pray and to continue praying for God to raise up leaders and place men and women in office who will serve faithfully with an awareness that elected officials are accountable to God for their voices as well as for their votes.
We pray for America confidently, expectantly and gratefully.
"How great is Your goodness stored up for those who fear you" says the Psalmist in Psalm 31:19.
That is so true about this nation and our state of Maryland. In countless ways we've experienced God's goodness in the freedoms and rich heritage we share. Election Day is one of the endurimg signs of a free people. So for all the current controversies and deep divisions, we all have a stake in voting for those who will lead and serve with integrity and honor.
Secondly, the International Day of Prayer for the Persecuted Church bring us a glimpse into the price that many pay to hold a Bible in their hands, to gather for prayer or assemble for worship and to openly talk about our Savior's love and truth. As Romans 8:37 explains of all who honor Jesus Christ in a hostile culture, "we are more than conquerors through Him who loved us". That conquest, however, shines even more brightly through a man or woman who stands up against brutal oppression by holding God's Word in the open, expressing love for the living Lord and living as a witness of His unseen Kingdom.
~ Join us at 9:45 AM for Cafe Liberty and @ 10:15 AM for Worship ~
Our live-stream links are here ~ Watch
Facebook live link ~ https://tinyurl.com/y2m6ec68
And audio podcast via Anchor FM or Spotify at this link ~ https://tinyurl.com/mr2y5jfe
Operation Christmas Child boxes may be brought here to church on any of the next three Sundays. Place them on the small square table in the fellowship hall. We are so blessed to share in the phenomenal outreach venture of Operation Christmas Child, bringing hope, joy, surprises and the life-empowering good news of Jesus to the hearts and homes of children around the world! Many thanks to Hannah Eberly for her labor of love, coordinating all of this for the church family. Pick up a box today and join us in giving an unforgettable Christmas to a needy child through Operation Christmas Child.
In His love,
Joe D. Ready
Pastor