Greetings Liberty family & friends
It's a pleasure to share this snapshot of new seating to welcome everyone to worship!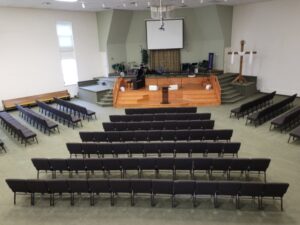 Among the many we want to thank for helping bring this goal to completion, we begin with givers!
All along the way in our goals for improving Liberty's worship center, we have seen the value of vision in all aspects of giving. Naturally, a giver might doubt whether his or her $35 or $75 or $125 is going to make much difference. But our vision to see worshipers of all ages discovering the adventure of following Jesus has a renewing and reproducing power within it. Gifts for tangible goals of our church, such as these beautiful new chairs, are an expression of a vision that calls all of us onward in faith.
So, for all whose care and generosity helps move the needle, we praise God! Thanks for giving for God's glory.
In this past week, many thanks to all who volunteered your time to be with us, for those who made it on Thursday and Friday. We were truly blessed by the care and dedication so many of you have shown and for the prayerful support expressed through tithes and offerings. The teamwork here this week was outstanding!
Join us for Café Liberty tomorrow from 9:45 until Worship @ 10:15 AM.
For all our friends who join us via Livestream, here are the quick links for finding us online:
Join us on our website: Live
Join us on Facebook: https://tinyurl.com/ucjjpv54
Or listen to our podcast via Anchor and Spotify: Past Services
In His love,
Pastor Joe
Liberty Church
P.O. Box 295
Westminster MD 21158
libertychurchlive.com
Pastor's Cell: (410) 596-4096